Jessica has been a REALTOR® in the Cowichan Valley for over five years and is with the David Lowes Real Estate Group where she helps her clients find the perfect outcome to their real estate goals. Whether it's buying their first home, selling the family home, purchasing a farm or a small multi-family investment home, she has the experience and knowledge to make the experience seamless.
Jessica prides herself on listening to her clients' needs, building relationships and trust, providing information and expertise so her clients can make informed choices and pursuing their goals with tenacity, like they were her own.
The Cowichan Valley is one of the most wonderful places to call home and when she has time, Jessica loves exploring the many trails, or savouring the craft and farm-to-table flavors that can be sampled at the local restaurants, farm stalls, farmers markets and vineyards. She also loves international adventures and building a real estate portfolio of her own. Contact Jessica with your Cowichan Valley real estate questions and have the David Lowes Real Estate Group market your home for all it's worth.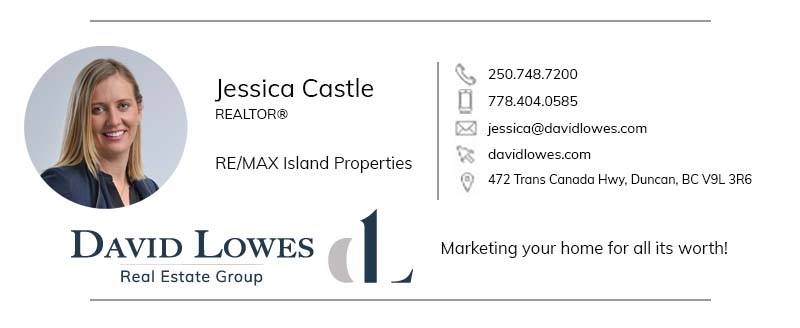 RE/MAX Island Properties
472 Trans Canada Highway
Duncan, British Columbia
250-748-7200 | TF: 1-800-976-5566
Each office independently owned & operated